Some of the links in this post are affiliate links. This means if you click on the link and purchase the item, we will receive an affiliate commission at no extra cost to you. All opinions remain our own.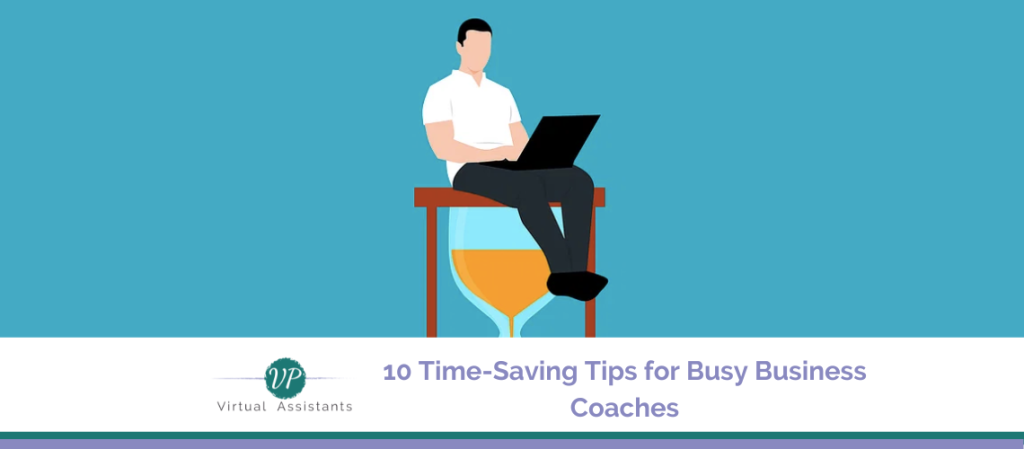 Do you feel like the hours in your day are never enough? Do you struggle to find time for all of the tasks that come with running a successful business and providing quality coaching services? Juggling clients, marketing, and admin tasks can feel like an impossible feat. You don't have to keep suffering from busyness. You are not alone! Even the most successful business coaches have their moments of overwhelm.
So, how can you stay productive and manage your time more efficiently? As busy professionals, it can be difficult to find balance. But don't worry – with these 10 tips, you will be able to maximize your productivity while keeping a healthy work/life balance. In this article, we are going to give you some insider secrets for saving time so that you can focus on what matters most as a business coach: delivering results for both YOUR clients and YOURSELF.
Tip 1: Set Clear Goals and Priorities
In our fast-paced world, it's easy to get sidetracked by a constant stream of distractions. That's why business coaches must define clear goals and priorities, which help keep them on track and focused. But how do you figure out what those goals should be?
Fortify your daily routine by setting clear goals and priorities. Establish what needs to be done each day – and how you are going to do it. This will help you to stay on track and achieve a sense of accomplishment at the end of each workday.
Outline your desired outcomes for both the short and long term. Then, prioritize each task in order of importance. By making sure that your goals are SMART (specific, measurable, achievable, relevant, and timely), you will be able to focus on the tasks that are most important for your business.
Another technique is the 80/20 rule, also known as Pareto's Principle. This principle suggests that 80% of your results come from 20% of your efforts. By focusing on the 20% of tasks that produce the most significant results, you can maximize your productivity and time management skills. Remember, it's not about how many tasks you complete, but rather the quality and impact of the tasks you prioritize.
Tip 2: Delegate and Outsource
Business owners have valuable time, and it's crucial to use it wisely.
Although essential for keeping things afloat, these low-priority administrative duties consume a significant chunk of our time and energy. By delegating non-essential tasks, you can free up your schedule to focus on more important things such as strategic planning, innovation, or nurturing relationships with your clients.
Another essential time-saving tip for busy business coaches is to delegate and outsource tasks whenever possible. Delegating and outsourcing mundane or repetitive tasks can free up your time and energy, allowing you to focus on more important tasks.
For example, outsourcing administrative tasks such as accounting, payroll, and customer service. You can also hire a virtual assistant or even a part-time employee to help with tasks such as responding to emails, managing social media accounts, and creating content.
Virtual assistants are an incredibly useful resource for busy entrepreneurs. However, it can be difficult to know which tasks can be outsourced to these professionals. Generally, anything that is repetitive or time-consuming can be delegated to a virtual assistant – think of things like data entry, social media management, and email management.
But how do you find reliable and trustworthy professionals to hand these tasks to? First and foremost, ensure that you are working with a reputable virtual assistant agency or individual. Look for reviews, testimonials, and ask for references.
Communication is key when working with a virtual assistant, so make sure you are clear about your expectations from the outset, and you set realistic deadlines and goals. With the right outsourcing strategy in place, you'll be able to free up more time to focus on growing your business and achieving your goals.
Tip 3: Embrace Technology and Automation
In today's fast-paced world, technology, and automation can be invaluable tools for busy business coaches. With all of the technological advances we've seen in recent years, there is now a plethora of tools available to make our lives easier. As a business coach, you can use technology and automation to save time on mundane tasks and maximize your productivity.
For example, you can use customer relationship management (CRM) software to track and manage client information. This tool will help you stay organized and ensure that all of your client information is up to date.
You can also incorporate automation into marketing campaigns by using email marketing schedulers or social media management tools. Using automation and technology can also be a great way of staying in touch with your clients. Automated email sequences, appointment reminders, or even chatbots can help you stay in touch with your clients and provide them with the best customer service.
Project management software is another useful tool for business coaches. A project management tool can help you to manage multiple tasks and projects at once, ensuring that nothing slips through the cracks. Also, you can use various time-tracking tools and productivity apps to improve your time management skills.
ClickUp is a project management tool and automation software that can save you a ton of time in your everyday coaching operations. With its user-friendly interface and robust features, ClickUp allows you to streamline your workflow, automate tedious tasks, and keep track of your progress all in one place. Need to schedule a session with a client? ClickUp can automate that for you. Want to assign tasks to your team members? ClickUp makes it easy.
The key is to find the right tools for your business needs and processes. Experiment with different solutions until you find the ones that work best for you. Everyone is different, so don't be afraid to try something new.
Tip 4: Implement Effective Time Blocking
Time blocking is an incredibly powerful tool for busy business coaches. This technique involves setting aside specific blocks of time to complete tasks and activities. By dedicating certain chunks of your day to specific tasks, you can ensure that you are spending your time most effectively and efficiently.
As well as helping you prioritize your workload, this strategy also prevents distractions from derailing your progress. By setting a specific timeline for each task, you'll be able to focus on one thing at a time and avoid distractions that can throw off your productivity. When implementing this strategy, try to set realistic deadlines for each task and make sure that you are being realistic with yourself. You know how long it takes you to complete certain tasks – so don't try to cram too much into one day.
Make sure you are using a calendar application or task list that helps you organize tasks by both date and priority. This will help you plan out your days more effectively and ensure that you're never skipping over important tasks.
Take regular breaks throughout the day. This will help to keep you focused and productive for longer periods. Breaks are essential for clearing your head and refocusing on the task at hand.
Time blocking can help you make the most of your time and ensure that you are putting your energy towards tasks that will have a real impact on your business.
Tip 5: Streamline Communication
With emails, phone calls, text messages, and social media, it can quickly become overwhelming to keep track of everything. It's important to find communication tools that work for you and your team to streamline and centralize all communications.
Some effective tools include project management software with built-in communication features or a unified messaging system. By implementing a chat platform such as Slack or Microsoft Teams, you can keep all your team members in the loop and avoid the hassle of an overflowing inbox.
In addition to technology, setting boundaries and managing client communication effectively is crucial. Establishing clear response times and expectations can help avoid miscommunications and burnout. Consider setting up an automated response system and using canned responses for frequently asked questions or tasks, such as onboarding new clients.
You can also consider incorporating video conferencing tools into your workflow to save time on client meetings. Platforms like Zoom, Skype, and Google Meet are great for one-on-one sessions with clients or team members. This will help you cut down on travel time and allow you to communicate more effectively.
Tip 6: Optimize Meeting Efficiency
Meetings can often be time-consuming and unproductive. To ensure maximum productivity during meetings, it is crucial to make them more efficient.
Start by setting clear objectives for the meeting. Outline what needs to be discussed and assign tasks or actions that need to be taken. You should also provide an agenda before the meeting so that everyone is aware of what will be discussed.
During the meeting, be mindful of how long you are taking on each topic. Set a timer to keep the discussion on track and move along when necessary. It's also important to focus on one topic at a time and stay away from side conversations or tangents.
Meetings are a necessary part of any business, but they can quickly become time-consuming and inefficient.
Set clear expectations and boundaries for everyone involved, such as limiting interruptions or speaking only when necessary. This will help to ensure that the meeting is effective and efficient.
Tip 7: Batch Similar Tasks
Task batching is a game-changing productivity hack that business coaches can utilize to be more efficient. The idea behind it is simple: grouping similar tasks and completing them all at once instead of doing them one by one. By batching your tasks, you can cut down on time and effort, and focus on one type of work at a time. For instance, scheduling all your coaching calls in one day, or dedicating another day to creating content for your website. This way, you can work smarter, not harder.
But how do you determine which tasks to group together? It's helpful to divide your tasks into categories such as administrative, marketing, and client-facing tasks, and then organize your day around those categories. Furthermore, within each batch, you can prioritize the tasks based on urgency, importance, or difficulty.
Similarly, try to batch your social media activities, such as scheduling posts or sharing content. You can also batch your client meetings or calls and schedule them for the same time every day or week.
This strategy will help you streamline your workload and prevent you from switching between tasks too often.
Tip 8: Minimize Distractions
Distractions are inevitable, especially in today's always-connected world. We all know how easily we can get sidetracked by distractions – a notification from our phone, a colleague popping by to chat, or even a catchy song on the radio. These distractions not only derail us from our work but also disrupt our productivity and hinder our ability to achieve our goals.
If you're struggling to stay focused and minimize interruptions, some solutions can help you get back on track. Consider carving out a dedicated workspace in your office or home that is free of distractions. This could be as simple as setting up a desk in a quiet room or investing in a noise-canceling headset.
Another technique is to try implementing time-blocking techniques to ensure you have enough time for important tasks. This involves setting aside specific blocks of time dedicated to one task or activity.
Using productivity tools such as apps or browser extensions can also help minimize distractions by blocking certain websites or providing gentle reminders to stay focused.
The best part about these strategies? They're not rigid rules or strict schedules, but simply ways to help you maintain focus and productivity throughout your day.
Tip 9: Take Breaks and Practice Self-Care
It can be easy to get lost in the hustle and bustle of daily life, especially if you're a busy business coach. But it's important to remember that taking breaks and practicing self-care aren't luxuries–they're necessities.
Doing something for yourself every once in a while is essential for your mental and physical well-being. This could be something as simple as taking a walk, reading a book, or meditating.
It's also important to build in regular breaks throughout your day. This could mean having lunch away from your desk or setting aside 10 minutes for quick stretch sessions. Getting outside and getting some fresh air can help make you more alert and productive, especially if you've been sitting at your desk for long periods.
Finally, don't forget to get enough sleep. You can't be productive if you're exhausted and burned out. Be sure to give yourself enough time to rest and recharge so that you can come back energized and ready to tackle the day. Studies have shown that taking breaks can improve focus, creativity, and problem-solving skills. Plus, it can also lead to a decrease in stress levels and an increase in job satisfaction.
Tip 10: Regularly Evaluate and Adjust
The last tip to help business coaches save time is to constantly evaluate and adjust their product strategies. It's important to recognize when something isn't working or takes too long and re-evaluate the process accordingly.
As a business coach, your time is a precious commodity. Ensuring that you are making the most of every second is crucial to your success. It's important to regularly assess your time management strategies and adjust them as needed. But how do you evaluate their effectiveness? One way is to measure the amount of time you are spending on various tasks and prioritize accordingly. Are there certain tasks that seem to take up too much of your time? Can they be delegated or streamlined?
For instance, if you find that a task is taking too much of your time, try delegating it or looking into automation tools that can help streamline the process. You can also look for ways to make your tasks more efficient, such as finding new shortcuts or switching up your workflow.
When it comes to continuous improvement, it's important to be open to new ideas and ways of doing things and to be proactive about implementing these changes. Refocusing on priorities, using time management tools, and delegating tasks can all help optimize time and achieve more in less time.
In conclusion, Business coaches have plenty on their plate each day as they help entrepreneurs stay organized and productive. With these 10 tips, business coaches can ensure they stay effective in their job and remain sane in this hectic field.
Try to find what works for you, whether it be using a scheduler app, losing distractions, or establishing ground rules with clients. Every technique will bring balance to your life which will help you get the most out of coaching. Utilize any of these tips if you're feeling overwhelmed or need an extra boost during the day, no matter how experienced you are— work smarter, not harder! And… if for whatever reason you STILL have too many tasks on your plate, contact us and let us take care of some of them for you!