Some of the links in this post are affiliate links. This means if you click on the link and purchase the item, we will receive an affiliate commission at no extra cost to you. All opinions remain our own.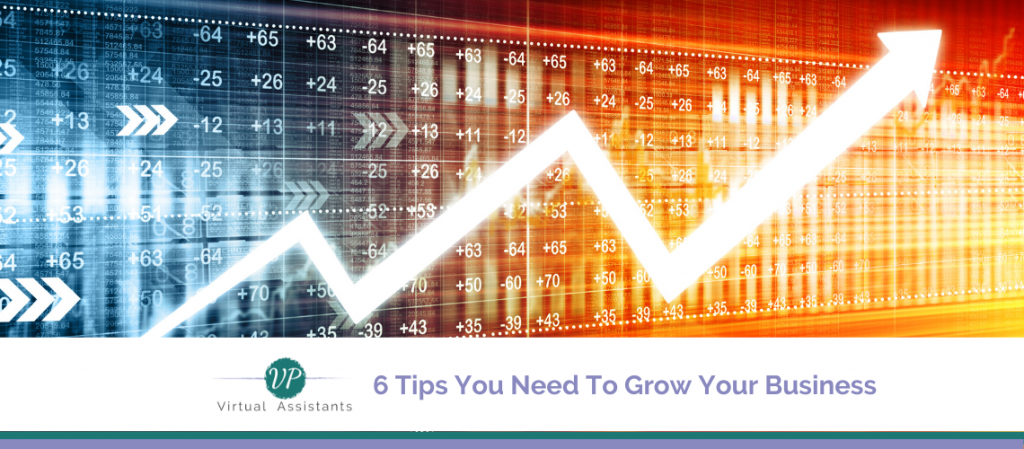 Many business owners decide to expand their operations when customer demand ratchets up, the business has been profitable for more than three years, or the owners identify the need for related products or services, among other reasons. It can be fun and challenging to grow your business. Working with a virtual assistant can help you do so more efficiently and avoid missteps.
6 Ways To Grow Your Business With a Virtual Assistant
A virtual assistant is someone who works remotely for your business and performs various services. You can have multiple assistants working for your company to help you grow in various capacities.
1. Let the Assistants Handle Specialized Tasks To Free Up Your Time
Property managers typically do property management best. Short-term rental hosts tend to be skilled at finding tenants for vacant units, setting budgets, and maintaining properties.
They may not be naturally suited to tasks such as social media and online marketing, accounting, lease renewals, or online maintenance requests. Virtual assistants can handle these tasks and more, enabling property managers to focus on the essentials of what they do.
2. Scale Up Temporarily or Seasonally To Test the Waters
You might try to temporarily or seasonally grow your business to see how it goes. Virtual assistants let you do this without the expenses and hassles related to hiring part-time or full-time employees for a limited period. Online assistants can work from anywhere in the world and do basically any task for various pay rates.
With these assistants, you get the opportunity to expand your business operations for a few months to see if it could be feasible to do so permanently or at the same time every year. You are able to do so at a fraction of the cost and effort compared with hiring regular employees.
That said, if you would rather hire virtual assistants as employees of your business rather than as independent contractors, you can do that. The main difference between virtual and in-person assistants is that the virtual ones work remotely, not in an office with you. If it makes more sense for your business to hire these assistants as actual employees, you have the flexibility to do so.
3. Jump-Start Your Marketing
Marketing is one of the areas virtual assistants can help tremendously as you grow your business, along with bookkeeping, accounting, scheduling appointments or requests, making phone calls, managing email, and performing graphic design jobs.
Marketing is a good way to launch your business expansion. For example, starting a blog or building your presence on Facebook, Twitter, and Instagram could net you many new clients or customers.
Of course, many business owners do not have the time or expertise to take on marketing. Virtual assistants who specialize in marketing can handle these tasks for you efficiently and affordably. They can track their efforts and metrics across various channels to see which endeavors are most useful and help you carve out a niche.
4. Expand Your Social Media Reach
Social media is enough of a marketing need that some businesses have separate virtual assistants for social media marketing and other online marketing functions. Social media virtual assistants can make Facebook, Twitter, Instagram, Pinterest, LinkedIn, Tiktok, and Reddit posts, as well as monitor the comments on your social media channels, post comments under the business name, and engage with potential customers and existing customers on social media. They can work 10, 40, or 80 hours a week on this, whatever you require.
The assistants can track metrics to see which types of content and platforms resonate most, with whom, and at what times. They can also do hashtag research, develop content schedules, and create content such as blog posts and infographics as you grow your business.
5. Ramp Up Your Customer Service
If your business offers a product or service as many do, virtual assistants are an excellent first point of contact for customers. Suppose you offer business coaching. You could hire a virtual assistant to automate scheduling and appointments, reply to emails, and write first drafts of blog posts. That work frees up tremendous time for you to do what you specialize in, which is helping other entrepreneurs realize their dreams.
If you sell a product, a virtual assistant could handle customer troubleshooting calls, especially for frequent problems. You can train the assistants to give tutorials and give them the steps to escalate customer concerns to the appropriate people in the business when necessary.
5. Save Up To Pay Down Debt
Debt can be a huge burden on any business, whether it takes the form of business credit card debt, loan payments, or something else (or a combination). If your business needs to cut costs first in order to grow, you could save a tremendous amount of money with staffing expenses by using virtual assistants instead of in-person employees.
6. Host Your Own Events, Seek Out Sponsorships, and Expand Your Mailing List
With the help of virtual assistants, you can grow your business by seeking out paid sponsorships that get the business associated with prestigious events. You can get booths or ad space at trade shows and in magazines, and perhaps even speak at a conference.
You can host your own events too, with virtual assistants taking care of much of the grunt work associated with contacting vendors, making reservations, and putting together prize packages.
Mailing lists (also known as email lists) are akin to gold for many businesses. Virtual assistants have the ability to set up and run giveaways, promotions, and more to expand your list. If you are a business coach, for example, a virtual assistant could run a Facebook promotion where you give away 10 free hours of coaching. To enter, people sign up for your mailing list or download your ebook (giving their email address to do so).
Grow Your Business Today With Virtual Assistants
Virtual assistants can help grow your business more than you thought possible. They offer a new level of flexibility and customization to your business, let you test ideas with minimal investment, save money, and boost your marketing and customer service. Contact VP Virtual Assistants today to reclaim your time and ramp up your operations.