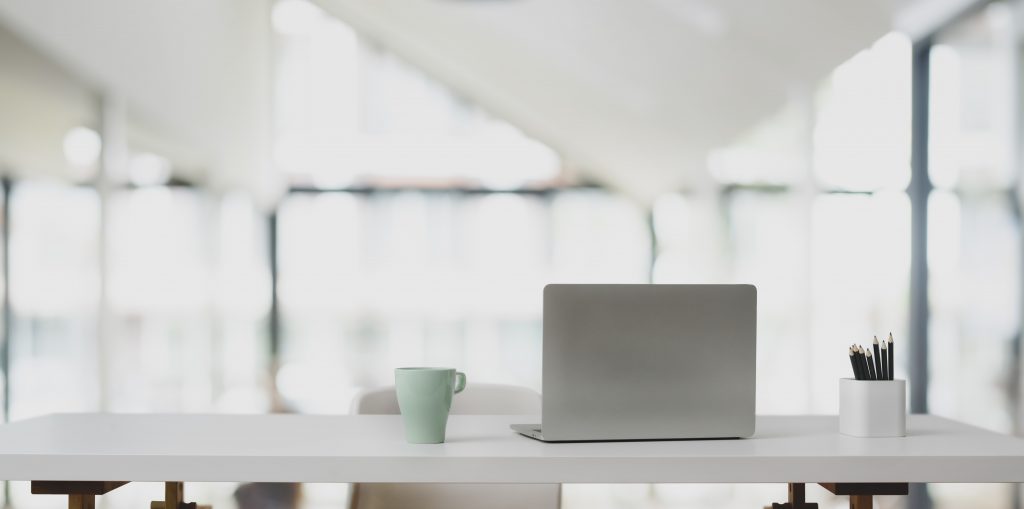 Choosing a virtual assistant is a challenging task.
It is no secret among business men and women that there are a vast number of mundane tasks in a business. These even include the day to day tasks such as managing emails or scheduling appointments. These minor things take a massive chunk of your time. It will be better if they are handled by an assistant so you can utilize your time on the more significant aspects of your business.
There are a lot of advantages to hiring a virtual assistant over an administrative assistant, which includes not worrying about providing a workspace or employment taxes. The point of consideration is: How do you choose the right virtual assistant perfect for your unique needs?
First Step: Create a Strategy
The first step to take in choosing a virtual assistant is self-reflection – it involves a lot of you. You first have to analyze what you need help with from an assistant.
You need to know which tasks and in what capacity you are willing to delegate to a stranger who may well be living on the other side of the world. You might be uncomfortable sharing your schedule, your contacts, or your emails.
To get started, here are a few questions to ask yourself: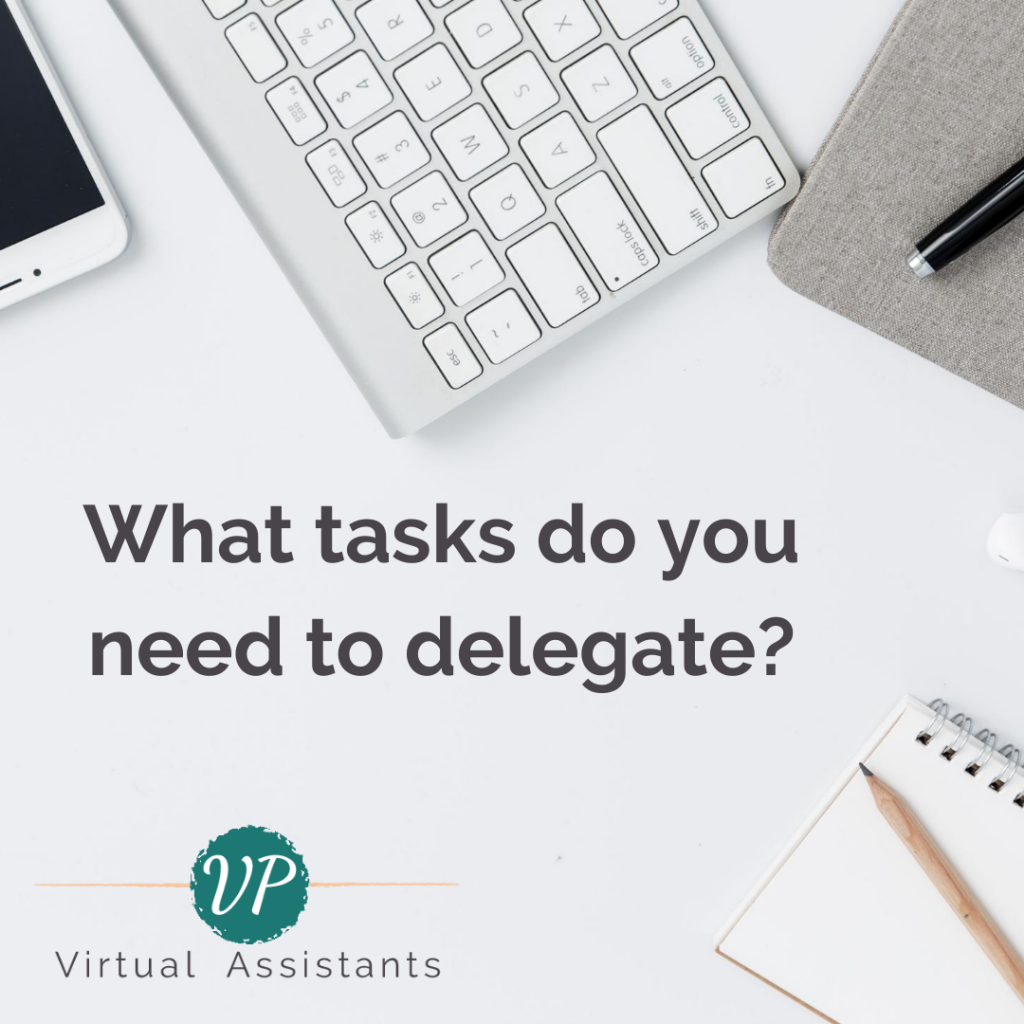 What tasks do you need to delegate? Create a detailed, exhaustive, and comprehensive list. Include anything you need help with in the list, from the most basic chores to the biggest management jobs. The more detailed the list is, the narrower your range of search is.
Are the tasks ongoing or one-time projects? This will help you determine your budget and timing. Knowing exactly how long the assistant will work for you will better help you make the necessary arrangements in your professional relationship.
Do you need a native English speaker? Depending on the tasks you need help with, you might need a native English speaker.
Is timing important for the tasks? Do you need the assistant to keep the same hours that you do? Can the tasks be completed at any time of the day?
What are my priorities? On the list of tasks, you need help with, what are the immediate priorities, and what can be done later on? Knowing your preferences will better help you identify the proper skillset you need from a virtual assistant.
Do Your Homework and Research
Far too many small-time business owners rely on VA companies to choose their assistants for them based on what they need. You should consider selecting a VA as a very hands-on project. Especially if you need to work with a VA long-term, make sure that the VA you end up with is someone you can get along with really well.
As much as possible, personally examine the qualifications of the VA you will potentially work with. Find out what they specialize in, what their skill levels are, and whether they can meet your expectations. Do the tasks need professional certificates? How about special licenses? Are there any legal considerations required?

Compatibility: Do you and the assistant "click" personality-wise? Are you happy with their qualifications? These are essential to consider before making the big decision. This is quite hard to do if you rely on a VA company. If this is you, look for a VA company with the highest satisfaction guaranteed rating.
Professionalism: Is the prospective assistant professional? Does he or she answer you with respect? How do they answer the phone? Whether or not they treat you well in your initial conversations will reflect on your relationship in the long run.
Tech Savvy: You will want to look for someone who at least has a baseline understanding of the software that you want to use. This is especially true if you will be managing your assistants' tasks using this software. From managing emails to organizing spreadsheets, your new assistant should be able to navigate their way around technology well. Make sure that he can easily adjust to the software you are using.

See if the potential assistants can meet the hours per week or month you need from them.
Check the reviews of either the actual virtual assistants or the VA company. Don't blindly commit to a virtual assistant. See what previous clients say about the subject in question. Of course, while you can't completely rely on what others say about the company or the assistant, you might get a better idea of who that assistant is and how they work.
Refine the List of Virtual Assistants
If you really got into your research, chances are you found several candidates to be your new virtual assistant. It is now time to refine the list to individuals best equipped to help you.
To help you refine the list of VA companies to work with, here a few questions you can ask them.
How do they assign their assistants? Some VA companies will assign you the first-available assistant. The goal of the questions is to know whether the company carefully analyzes your needs and picks the assistant best suited for you.
Is there a trial period? What happens if it doesn't work well with the assistant they have assigned? Will you be refunded, or will a new assistant be assigned to you?
Do you accept credit cards? This question is done just so you can establish an efficient payment method.
What are your experiences in my industry? A lot of the VA companies say that their VAs can handle any task. There may be truth to that, but that is mostly marketing talk. Try digging a little deeper, see if they have done the specific tasks that you want them to do.
Is there a backup plan in case my assistant gets sick, or quits, or is on vacation? Will you pay for sick days or vacation days?
Can I set the hours the VA will work? In the training period of a new virtual assistant, it may be necessary to have the VA work the same hours you do.
Do you have verifiable references? It would be beneficial to call some of their previous clients to see how well the company has managed past clients. Testimonials and reviews (like the ones you see on https://vpvirtualassistants.com) are a good starting point to see what other customers think of the company.
How are the hours tracked? Ensure that your VA is tracking the time they are spending on your tasks. Many VA's work with multiple clients, so their method of reporting the time should be something discussed upfront. You may choose to pay a flat rate for the tasks to be completed, or you may decide to pay the VA hourly. Either way, this is a discussion that you should have right upfront.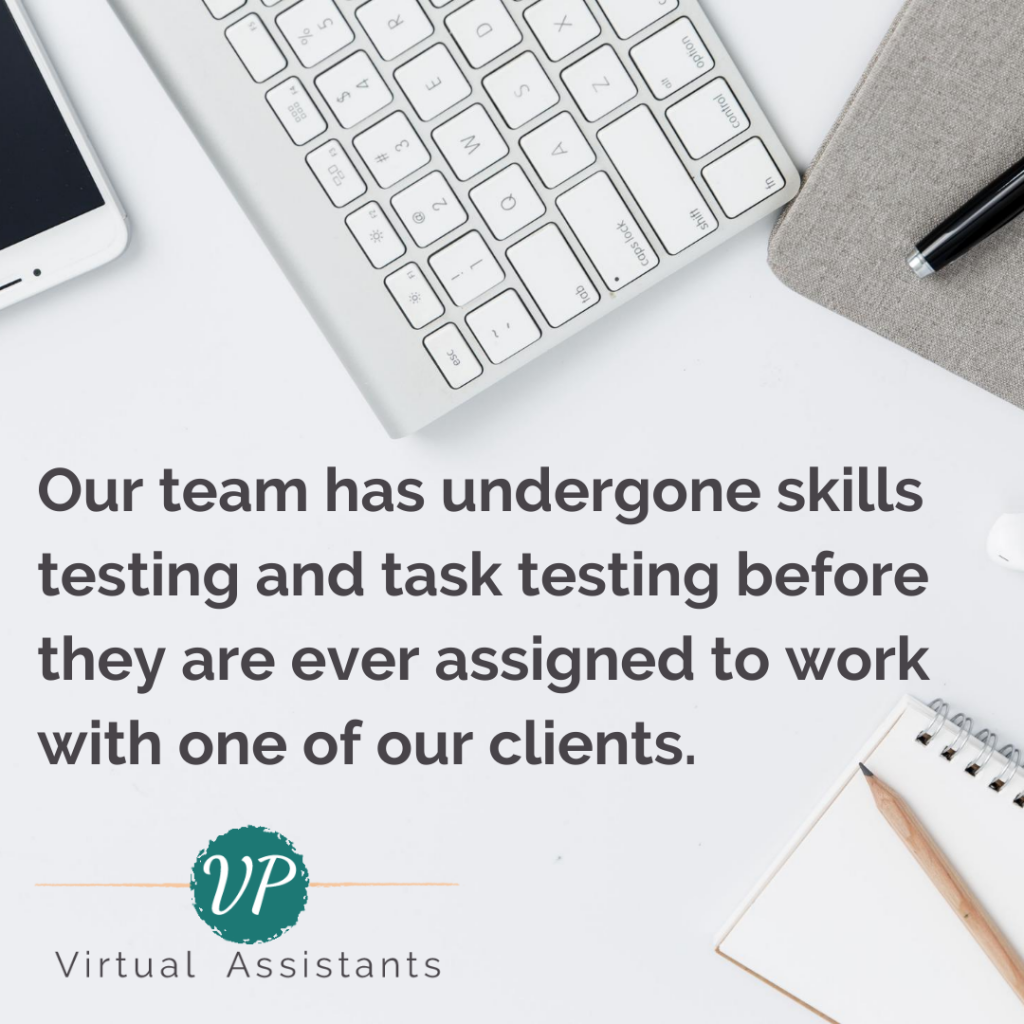 If hiring through a company, your risk is considerably reduced. Each VA company carefully vets and tests their VAs including VP Virtual Assistants. Our team has undergone skills testing and task testing before they are ever assigned to work with one of our clients. Our reputation is on the line with every match we make.
A crucial point to remember in this stage is to ask a LOT of questions. Try to get a feel and insight into the personality and professionalism of the individual. Try different approaches in your interview, ask lots of questions, primarily open-ended questions. Asking questions (like the ones in this link from Indeed) will help you to better understand the person you will potentially work with.
A couple of questions you can ask that can reveal a lot about the assistant are:
Why did your relationship with your previous client end? A lot of people say that one of the advantages of hiring through a VA company is you can avoid interviews. But choosing a virtual assistant should be treated as a big administrative decision. This is why it is essential to ask the same questions asked during a job interview at a big company. Did the assistant meet the expectations of their previous client?
How do I fully utilize your expertise? This question will give you a wide range of answers from different VAs. This is a chance for them to represent themselves, and you will see just how professional and confident they are in their skills.
Recruit the Best Person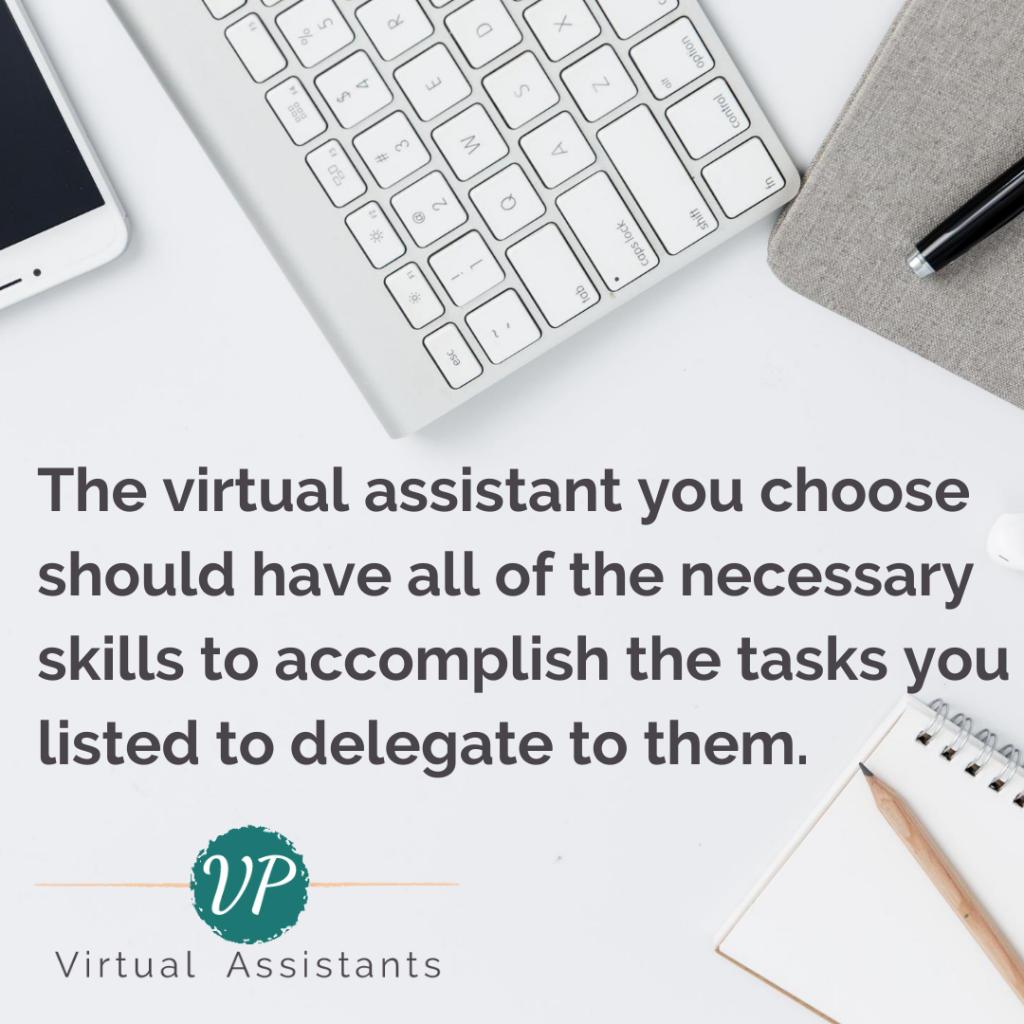 After going through the grueling screening process with the top VA candidates, it is now time to recruit or choose the best among them. At this point, you should have a very clear understanding of the kind of VA that you want among the candidates.
The virtual assistant you choose should have all of the necessary skills to accomplish the tasks you listed to delegate to them. He or she should be available to work in the hours that you need them to. And above all, he should be able to work well with you – you should have the satisfying "click"!
Time to Hire a Virtual Assistant!
Choosing a virtual assistant is a challenging task. There are risks to your business involved if you choose the wrong person.
But by taking the right steps, you can make it not only more comfortable but also limit the potential risks along the way.
Create a plan of what you need to accomplish. Search for the best candidates. Hire the right virtual assistant perfect for your needs.