Some of the links in this post are affiliate links. This means if you click on the link and purchase the item, we will receive an affiliate commission at no extra cost to you. All opinions remain our own.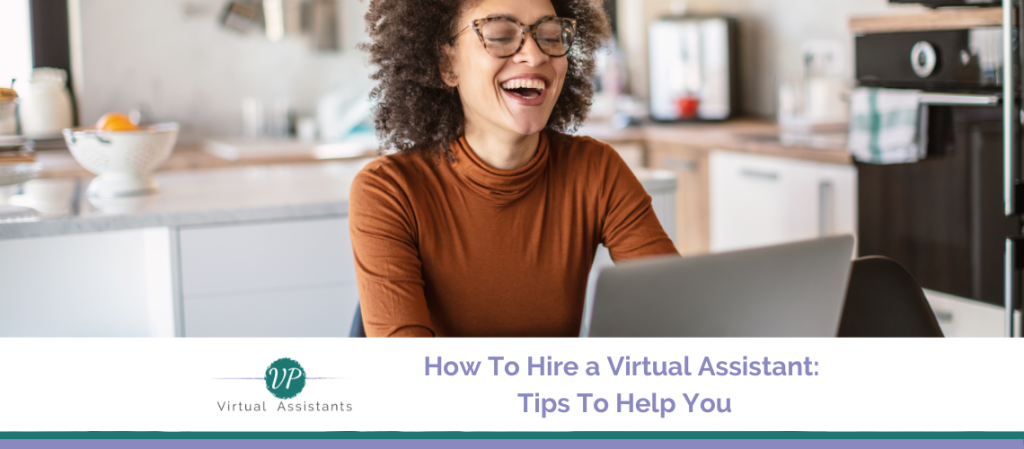 A virtual assistant can be a great asset to entrepreneurs and business owners, helping them with various tasks and saving them many hours. For example, a virtual assistant could handle functions such as social media marketing, emails, and scheduling for a short-term rental host. Of course, finding the right person is critical. A few preparatory tips should serve you well as you learn about how to hire a virtual assistant.
8 Tips on How To Hire a Virtual Assistant
One of the first steps is deciding whether you will attempt to hire directly or go through a virtual assistant agency. Going the agency route has a lot of benefits.
1. Use an Agency
Entrepreneurs, business owners, property managers, and others usually do not have the time to sift through cover letters and resumes. Going through a virtual assistant agency means immediate quality control, a streamlined process, and vetted candidates. You could even find candidates with skills such as multilingualism.
Many people who try to hire directly through job boards or freelance marketplaces end up unhappy or do not find anyone suitable. They end up turning to agencies, anyway.
2. Gather Key Information Before Contacting an Agency
Learning how to hire a virtual assistant involves a keen understanding of how you plan for this person to use his or her time. Factors to consider include why you want to hire an assistant, the tasks you are looking for this person to handle, how you want them done, how you plan to onboard the VA, and your preferred ways of communicating with the VA.
Many types of VAs exist. For example, you can get a general assistant for technical and repetitive tasks, such as managing your schedule, handling emails, and conducting data entry. Other tasks a general VA could do include these:
Process customer orders and returns
Make sales calls following a script with guidelines on answering frequently asked questions
Perform remote personal errands such as ordering online gifts and flowers
Research statistics for an ebook or conference presentation
Answer phone calls, emails, and comments on social media
As you research how to hire a virtual assistant, you may discover you have more advanced needs. A specialized VA could handle video editing, bookkeeping, or social media marketing, for example. An executive virtual assistant can be your right-hand person and do a lot of tasks that support your business.
3. Record the Assistant's Expected Workflow
Go through the assistant's expected workflow, if possible, and record the tasks performed and the amount of time spent on tasks. Knowing these details lets you communicate to the agency later how many hours the assistant might need to work and clarifies what the job will be like.
If you do not already have scripts for customer calls and the like, now is the time to develop them. They help you nail down timeframes much more accurately. Do this for similar processes.
4. Write a Job Description
As you explore how to hire a virtual assistant, write a job description. This is essential if you are hiring directly through job boards or freelance marketplaces and hugely helpful when working through agencies.
Include the tasks you are seeking help with as well as the skills, qualifications, and experience assistants need to perform those tasks. Provide clear expectations about assistant availability and communication.
5. Set the Budget
Run the numbers to see how much money you can pay your assistant. As you might expect, specialized assistants cost more than generalists, and U.S.-based ones cost more than international assistants.
Hourly rates are typical for direct hires, especially at the beginning, so you can match the assistant's output to what you are paying. Monthly rates are more common with agencies.
6. Research Agencies and Communicate With Them
Exploring the different virtual assistant agencies is an important aspect of how to hire a virtual assistant. Choose a few that meet your needs and that have good reviews and reputations. Read the agencies' websites for examples of what their assistants can do and how they have solved clients' problems.
Next, contact the agencies, and include your job description. Ask the agencies about matters such as:
How they select their assistants
How they ensure quality control
The agency's role as an intermediary and whether you communicate directly with the assistant
The financials
Any trial period
Many entrepreneurs like to start with a trial period. It helps them see how well their assistant performs and whether the person fits with the company culture. Avoid committing to a long-term contract with someone before you have the chance to evaluate the suitability of the match.
Get references from clients the agency has worked with, and talk with them. Another thing to ask about is nondisclosure agreements. Your VA might also work with others in your industry. NDAs protect your secrets from being shared. Finally, choose an agency you feel comfortable continuing with.
7. Review Contracts Carefully
Read contracts carefully before you sign them. Pay attention to items such as pricing, cancellation policies, and the responsibilities of the agency. You have done a lot of legwork in the process of learning how to hire a virtual assistant, and it can be easy to let your guard down here.
8. Prepare Onboarding Materials if You Have Not Already
It is essential to have clear onboarding processes for your assistant. Otherwise, both of you could be in for a confusing, chaotic time. Your agency may already have some processes such as time tracking and reporting set up, so ask about that.
As you prep onboarding materials, include step-by-step instructions on how to perform various duties. Gather information on your target audiences, and get login credentials ready.
Ease the virtual assistant into the workflow. Too much at once can be overwhelming, and virtual assistants need to learn more about your expectations and company culture. It's too easy for an assistant to post the wrong type of meme on social media, for example, if they haven't yet become accustomed to your brand voice.
How To Hire a Virtual Assistant: Start Today
Unsure how to hire a virtual assistant? An agency can make the process much easier and save you a considerable amount of time and effort. Contact VP Virtual Assistants today and we will be happy to help you out!