Some of the links in this post are affiliate links. This means if you click on the link and purchase the item, we will receive an affiliate commission at no extra cost to you. All opinions remain our own.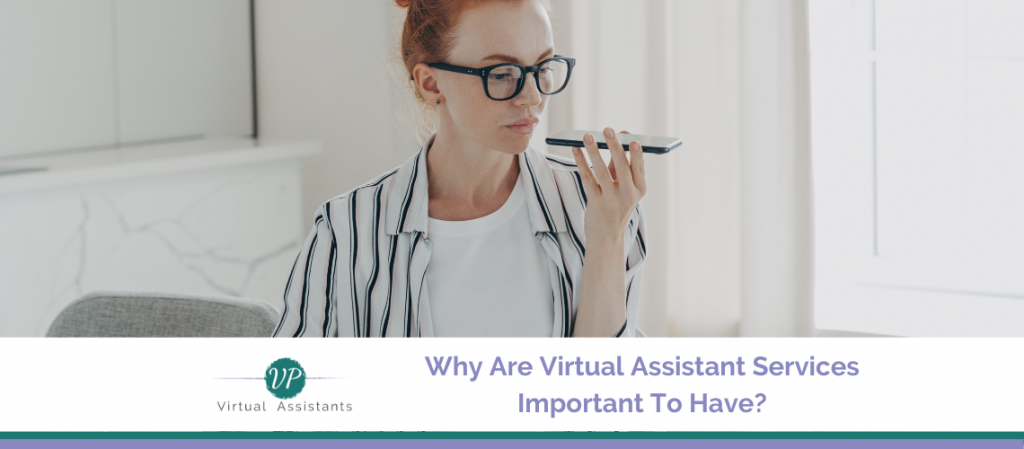 Successful entrepreneurs understand the value and necessity of managing business operations in a sustainable way that leads to growth, and not burnout. Virtual assistant services are a smart way to get access to top talent to support your business and generate greater profits. Find out more about the many advantages of hiring a virtual assistant.
What Are Virtual Assistant Services?
Virtual assistants are highly skilled self-employed professionals who work remotely to perform a variety of essential business functions to your specifications. They handle all types of administrative support tasks:
Schedule appointments
Compose and organize emails
Make phone calls
Arrange travel plans and accommodations
Manage social media accounts
There is a lot of versatility when it comes to what a virtual assistant can do. You can also find an assistant with experience in higher-level business functions such as:
Online Marketing
Market research
Web development
Content writing and search engine optimization
Transcription
Virtual assistant services make it easy to find highly qualified experts. You have the freedom to build a plan that suits your exact business needs and hours.
Owning and operating a business is hard work that requires a significant amount of time and effort. Hiring a virtual assistant is a cost-effective way to put necessary tasks into another's capable hands to help grow your business and get some time back for yourself.
What Are the Benefits of Using Virtual Assistant Services for Your Business?
There are so many ways that a virtual assistant can aid your business. Here are some of the top advantages.
Increase Productivity and Grow Your Business
Business growth is essential for your continued success as an entrepreneur. A virtual assistant service is a beneficial collaboration that allows you to get important tasks completed by skilled professionals.
Not only do they free up your time so you can focus on what's important, but virtual assistants are also highly trained and can strengthen any weak areas, offer ideas, and streamline your business processes, all of which lead to increased production and better growth.
Focus Your Attention
Running a business involves so many variables, it's tough to find time to dedicate yourself fully to every task that demands attention. With the help of virtual assistant services, you can share your responsibilities and spend more time on the most important aspects of your business.
For many businesses, it's smart to outsource help, especially with things you can't complete on your own due to a lack of expertise or time. Remember that not every job within your company requires your attention. Virtual assistants are the perfect solution to take care of daily tasks and provide support wherever needed. Plus, delegating routine tasks frees up some of your time to enjoy your personal life.
Save Money
Managing the finances of your business is one of the hardest jobs for many entrepreneurs. Outsourcing is an effective way to help keep costs down. Instead of bringing more full-time employees on board, virtual assistant services allow you to customize a service package where you only pay for what you need.
Since virtual assistants work remotely, you can save in other ways as well. There's no need to purchase expensive office supplies and equipment like telephones and computers. You can minimize or eliminate the need to rent office space, which cuts down on maintenance and upkeep costs. Another money-saving benefit is that virtual assistants don't require you to pay for employee benefits.
Enjoy Greater Flexibility
Virtual assistant services connect you with professionals with multiple skills who can easily perform a wide range of tasks within a specified timeframe. Whether you need help with customer service, organization, data entry, website design, or any other task you can think of, there is an expert available to complete the job and keep your business running smoothly.
It's possible to hire a virtual assistant to complete just one or two job functions, but VAs are so valuable because they receive training in a huge variety of areas. Your business benefits from the diversity of your assistant's skills and ability to jump from one task to another efficiently.
Hire Talent With Diverse Skillsets
Hiring remote workers means that you aren't limited by location and can access the very best talent there is. Evaluate your business needs and decide which skill sets you to require. Speak to your virtual assistants about your expectations. They are highly knowledgeable and capable of managing any business need you have. This means you can rest easy and have confidence that every task is carried out correctly and with complete dedication to accuracy and attention to detail.
Communication is key to getting the best service possible. Explain your business operations in full. The better your assistants understand your business operations and goals, the better service they can provide.
Get Access to Consistent Reporting
Virtual assistant services track their tasks and provide you with reports. You'll know exactly what's finished and how long each job took to complete. The data in these reports are an excellent resource to help you budget your future workload effectively.
Unlimited Availability
Another perk of virtual assistants is their availability. Remote workers can provide 24/7 service, so you aren't restricted to normal business hours. These lets you continue crucial tasks beyond the standard eight or so hours of a typical day at the office while expanding availability to your customers.
The flexible nature of remote workers means that you can easily adjust your needs as your business changes and grows. If you have a temporary need for more assistance, you can always request extra support to fill the gap and keep your business going.
Get Started With the Right Virtual Assistant Services
At VP Virtual Assistants, we understand how important it is to work with a VA that you trust and can communicate with openly. We always start with a personal conversation to get to know each other, discuss your business needs, and decide if we are a good fit. Once you outline the volume and type of tasks you need help with, our team puts together a package specifically designed for your business. With our help, you can reclaim your time and eliminate unnecessary stress.
Contact us today to learn more about our virtual assistant services and get started!