Some of the links in this post are affiliate links. This means if you click on the link and purchase the item, we will receive an affiliate commission at no extra cost to you. All opinions remain our own.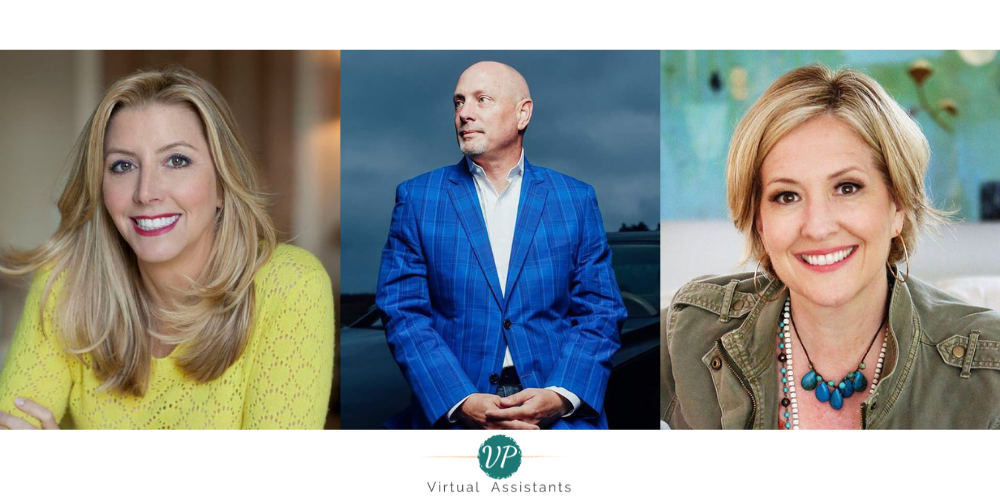 What do successful entrepreneurs have in common? Of course, they are all motivated and driven to succeed. But what inspires them? Here are three inspiring entrepreneurs you can learn from. These individuals overcame adversity and built successful businesses.
At times, it can be tough to find inspiration in your business and personal life. So it's especially helpful to look towards entrepreneurs who have made an impact and continue to blaze a trail.
In this article, we'll be discussing three inspirational entrepreneurs that you can learn from. While their businesses vary in nature, these three individuals have achieved great success by being creative and innovative in their approach.
Sara Blakely
Sara Blakely is the founder and creator of Spanx. Spanx is popular among celebrities like Oprah Winfrey, Gwyneth Paltrow, Beyonce, and Michelle Obama. In 2012 she was named in Time Magazine's list of 100 most influential people in the world. After graduating from Florida State University with a degree in Communications, she worked for several years in sales. However, it was when she tried to make pantyhose without the feet that the idea of Spanx came to be. Her ideas were initially scoffed at, but today her company brings in over $400 million annually.
Sara Blakely was rejected by many investors when she first started Spanx. At the age of 27, Sara had no business-related experience before starting up Spanx. This is an example of how it's unnecessary to have previous business experience to be successful. Many entrepreneurs are young when they start their businesses; Sara started Spanx at the age of 27, while Mark Zuckerberg (founder of Facebook) was 20.
She secured an initial investment after explaining how women often cut the feet out of their pantyhose to wear them with open-toed shoes. She joked that her innovation was meant to save women time and money. Still, it wasn't until after she made the sale that people realized the potential of what she had created.
Sara Blakely's story is an excellent example of how to be creative and innovative in business. She was able to think outside the box and come up with a product that was not only different from what already existed but one that would cater specifically to an unmet need in the marketplace – no matter how silly her "eureka moment" may have initially sounded.
Sara Blakely is an inspiration to women entrepreneurs. She built Spanx into one of the most successful companies today, all after starting up with little business experience.
Brene Brown
She has also published several books, including Daring Greatly: How the Courage to Be Vulnerable Transforms The Way We Live, Love, Parent, and Lead, The Gifts of Imperfection: Let Go of Who You Think You'reYou're Supposed to Be and Embrace Who You Are, and Rising Strong: The Reckoning. The Rumble. The Revolution.
Brené Brown is a research professor at the University of Houston Graduate College of Social Work. She has spent over twelve years studying vulnerability, courage, worthiness, and shame.
She's been featured on Oprah, Time Magazine, PBS, and many other media outlets for her work in the field of self-esteem. Her first book, Daring Greatly, was a New York Times bestseller. Her research is all about human connection, empathy, and vulnerability.
Brene Brown'sBrown's TED talk on the Power of Vulnerability shared her research on shame and empathy. She found that vulnerability, uncertainty, and accountability are the three traits of a "wholehearted" life. In her study, she talks about how people can find more happiness in their lives by embracing vulnerability and taking on challenges that make them feel uncertain. Her work has been influential to many companies trying to build more personal and transparent relationships with their customers.
Not only does Dr. Brene Brown study vulnerability, but she lives it to help others feel comfortable with being vulnerable in life and business. Brene is particularly open about her mental health challenges, including clinical depression. She also frequently shares how she and her husband almost lost their home due to a failed start-up company they invested in.
Brene Brown is an excellent example of empathy in the business world – something that's becoming increasingly important as more companies try to engage with customers on a one-on-one basis.
Greg S. Reid.
Reid founded Ingenex Solutions with the vision of building a company that focused on both customers and employees. He believed if he could create a strong company with happy people who had good jobs, they would deliver quality products to their customers. That's precisely what happened – Ingenex thrived and grew into a company that did more than $200 million in revenue.
Greg S. Reid was one of the founders of Netflix but since has left the company to launch other ventures. He's sold two companies for over $1B each and is currently working on his newest venture – Everwise.
He was one of Reed Hastings" (Netflix co-founder) roommates in college at Stanford University, which is where they met and became friends. Greg Reid later became one of the original four employees at Netflix, serving as Vice President of Business Development before getting fired from the company in 2000. Reed Hastings fired him because he believed Greg was "too entrepreneurial" for a start-up like Netflix.
He is also a speaker on leadership, creativity, and innovation. He has spoken at Google, Nike, Stanford University, Microsoft, AT&T Wireless, the Columbia River Maritime Museum, the National Science Teachers Association Annual Conference, and many other institutions.
You can find out more about Greg Reid by reading up on him in Forbes. He is always happy to share information about himself. In addition, he offers advice to entrepreneurs trying to get their start-ups off the ground.
"My goal with Everwise is to build a company that is both profitable and impactful," Reid said. "I want our employees to wake up every morning, look in the mirror, and be proud of the company they work for."
Conclusion
Whether you feel like this is the perfect opportunity to take your business in a new direction or simply want to get more of an understanding of what drives people's brains and behavior, we hope that these insights will give you some inspiration.
These inspiring individuals have one thing in common: they dared to dream and then acted on those dreams. They didn't let their fears or failures stop them from achieving great things.
Do you feel inspired? If so, it's time to get out there and start making your dreams a reality. And if you need help getting there, we are always here for you. Contact us today for your free consultation!