Some of the links in this post are affiliate links. This means if you click on the link and purchase the item, we will receive an affiliate commission at no extra cost to you. All opinions remain our own.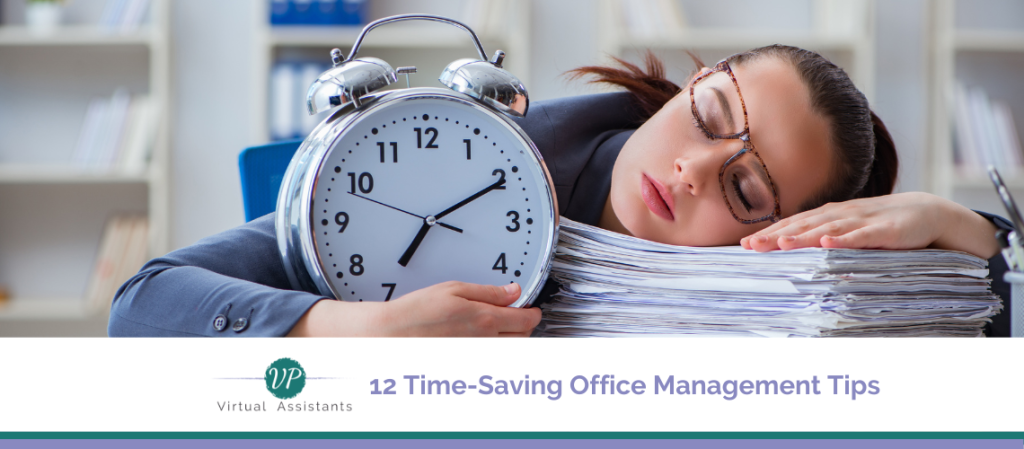 Running a business requires you to wear many hats, and there's always something to do. If you're not careful, this can become overwhelming, lower your productivity and in extreme cases lead to burnout. To prevent this from happening, you must find better ways to manage your time and responsibilities. Apply these office management tips to your daily routine.
12 Office Management Tips
Whether you've hired employees or you're a solopreneur, it's important to find ways to manage your office and responsibilities. Follow these recommendations to increase productivity and manage your workload more effectively.
1. Organize Your Work Area
A clean and organized work area is central to getting things done. Maintaining an organized workspace makes it easier to store and retrieve items whenever you need them. To keep things in order, well-arranged cabinets, labels and filing systems are essential. Use them to organize documents, supplies and other assets you keep in your office.
2. Get Rid of Distractions
You can't accomplish much when you're constantly distracted. Frequent interruptions such as email notifications, personal phone calls and online videos cost you time and can lower your productivity. To prevent this, get rid of potential distractions as much as you can:
Turning off notifications
Working in a quiet space
Using the internet for research only
Wearing noise-cancelling headphones
Avoiding non-work-related phone calls
Working in a distraction-free space enables you to focus and get more done. Apply these office management tips wherever you choose to work, whether it's in a home office, office building, coffee shop or co-working space.
3. Schedule Your Work Week
One of the most effective tips for increasing productivity is to plan your work week in advance. This helps you to stay on top of meetings, deadlines and other things that need to be done. Scheduling your work week also allows you to prioritize your goals and eliminate unnecessary work-related stress.
4. Setting Business Goals
A great way to measure the growth and success of your business is by setting goals. It allows you to see what's working and what needs to change. You should also set project goals for yourself and your employees. Not only will this lead to an increase in productivity, but it can build confidence in you and your team that motivates you to make big and bolder goals.
5. Utilize Productivity Software
Utilizing productivity software is one of the most productive office management tips an entrepreneur can use to streamline their business. These tools provide a more efficient way of getting things done and help with tasks such as:
Tracking expenses
Managing a database
Editing videos and pictures
Designing graphics and presentations
Creating documents and spreadsheets
Most of them offer online versions that you can access from multiple devices. This is especially helpful if you do a lot of traveling as you work.
6. Take Time for Professional Development
Staying on top of trends and technology is a vital part of doing business. Today, professional development courses can help you with this and improve your office management skills. There are many courses available online or in person, and some of them are free. To find the classes you need, start by searching for them on the internet.
7. Delegate Tasks
As an entrepreneur, it's impossible to run your business without any help. No matter how hard you work, there are times when you need to delegate a task to someone else. This could be an employee or a virtual assistant with the knowledge and skills to complete it. If you work alone, consider expanding your business by hiring an employee or a VA to help you.
8. Communicate Clearly
One of the most crucial office management tips for entrepreneurs is to communicate well. When delegating a project to an employee or virtual assistant, be sure your instructions are clear, so they can understand exactly what needs to be done. Clear communication is also vital when interacting with customers. Make sure all of your marketing, social media and any printed material is easy for customers to read and understand.
9. Keep Updated Records
Whether you work alone or with a team, you should have a customer relationship management system in place. This allows you to manage your customers by keeping track of their contact and payment information. Recording notes of your communication with customers also makes it easier for you or a team member to follow up with them. This is one of the best office management tips for building customer relations.
10. Develop Job Descriptions
If you have employees or work with a VA, it's important to define their roles and responsibilities. You can do this by developing job descriptions for them to adhere to. This gives them a clear understanding of their job duties and what you expect them to do. As your business needs grow, you can change and modify your descriptions accordingly.
11. Establish Routine Procedures
Another productive way to manage workflow is to establish procedures for performing routine work and responding to potential emergencies. If you have employees or a virtual assistant, it creates a system that's easy for all of you to follow. It also helps with communication and keeps everyone on the same page.
12. Hire a Virtual Assistant
If you don't have the budget to hire a full-time employee or you only need help occasionally, a virtual assistant can help. VAs are skilled professionals you can hire to complete a range of tasks that include:
Clerical work
Social media
Bookkeeping
Customer service
Working with a VA also saves you money, as you don't have to provide them with a workspace or equipment.
Using Office Management Tips with a Virtual Assistant
Successful entrepreneurs know how to manage their offices and bring on additional help when needed. You can do the same by applying these office management tips and hiring a virtual assistant to help you. With the assistance of a VA, you can increase your productivity and grow your business. For more about what a virtual assistant can do for you, contact us today.