Some of the links in this post are affiliate links. This means if you click on the link and purchase the item, we will receive an affiliate commission at no extra cost to you. All opinions remain our own.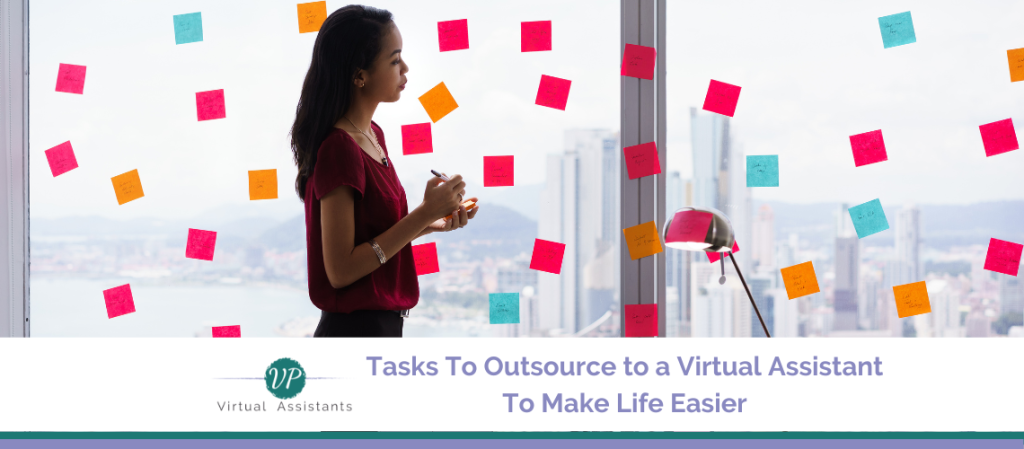 Virtual assistants are great assets to business coaches, property managers, or entrepreneurs who are overwhelmed with daily responsibilities. Virtual assistants can handle tasks for your organization, saving you time to get back to what's important to you, whether building your business or enjoying extra leisure time. There are many administrative, marketing, and support tasks to outsource to a virtual assistant to make your life easier.
Administrative Tasks To Outsource to a Virtual Assistant
General office administrative tasks are necessary for a business, but they can become time-consuming. Since these duties are mostly process-oriented, it is easy to assign another person to take care of them, allowing you to focus on what you do best. Here are examples of administrative tasks to outsource to a virtual assistant:
Scheduling appointments
Answering telephones
Organizing emails
Planning travel
Entering data
While administrative duties remove a lot of the burden from your organization, there are other chores you can outsource to a virtual assistant.
Marketing Tasks To Outsource to a Virtual Assistant
Promoting your business, products, and services is essential to grow your company. Outsourcing sales and marketing tasks to a virtual assistant is one way to get your business name out there. Here are ways a virtual assistant can help:
Blogs and Social Media Management
Social media is an excellent way to build traffic for your business. Virtual assistants can schedule your posts based on your needs. Let a virtual assistant add hashtags, locate images and insert and test hyperlinks.
Inquiry Follow-up
Responding quickly to inquiries is essential, but it takes time to contact people, discover their needs and schedule meetings or delivery of products. Following up on queries is one of the tasks to outsource to a virtual assistant, freeing up your time and making your life easier.
Virtual Tours and Videos
Virtual assistants can help by scheduling photographers or videographers to take pictures or record footage, whether you are a realtor or need to put together a video for your company. Once the photographs and films are ready, a VA can compile the materials into a polished and edited video or virtual tour.
Each business is different, so identify your current marketing approach and decide which tasks a virtual assistant could complete for you.
Support Tasks To Outsource to a Virtual Assistant
In a recent survey, more than half of the business owners interviewed have increased their work hours due to labor shortages. Virtual assistants are ready and willing to help. You do not need to spend time doing routine tasks to keep your business running smoothly. Here is a list of everyday support tasks a virtual assistant can manage:
Bookkeeping
Invoicing
Processing payments
Ordering supplies
Preparing documents
A virtual assistant can handle a wide range of tasks for you. Examine your company and start making a list.
Other Tasks To Outsource to a Virtual Assistant
Choosing the right virtual assistant is essential. Contact VP Virtual Assistants to book your discovery call and discuss which tasks to outsource to a virtual assistant. You will marvel at how many things a virtual assistant can take over that you are currently doing.